The Alternatives (a complete draft of chapter 1 is available to read here) is the first in a series of novels. It's target audience is females between the ages of 15-25.
It is a romantic fantasy joy ride with a protagonist who is 20 something. Josephine, or Jo, is a young woman who should be quite out of her depth, but  Jo is not alone on this crazy adventure. Her friends are just plain… Natural!
The story is about the depths to the bonds of their friendship.  These young women embark upon a simple journey to get from one place to another. Except they find themselves riding the Pony Express just trying to make it through the night.
The Alternatives takes the audience on a ride from the known world, to the unknown. The girls are drawn in and out of supernatural dangers, maintaining humorous and sometimes, outrageous fantasies. The overarching mission is to get one of their friends to a hospital, but the trip is fraught with danger.
Never before seen section of Chapter 2 for you
The Slice n Dice room
With Pony relying on us to help her, I looked at my friends chained together sitting in, well what I would've actually preferred to think as being piss, and saw an angry Kaz with her back pushed up against a dirty white tiled wall pulling at her chains.
I began looking around the room. There was an old hospital gurney over in one corner. Its plastic coated padding was torn and rotted, exposing the dissolving old foam it once encased. The covering was almost dripping from beneath the gurney, eaten away by time.
Every wall was lined with the same old white ceramic tile, with the black lace mould growing from its grout. One wall though, had twenty small doors in it. It was four doors high and five doors wide. Each door had a silver toned pull handle on it, like a fridge and I knew what they were without needing to think about it.
Another wall had an old white cupboard and shelving hanging from it. There were some stainless steel cutting tools still lying on the counter tops hugged by years of dust. An old chrome trolley, was leant up against the cupboard and looked as if it'd fallen apart in place, a long time ago. Hanging from one of the draw handles was a trolley shelf. Lower down on the same cupboard, was another piece of the trolley. It looked like it was wedged into the old wood. On the dirty floor were the last remains of the trolley. Its base lay against the floor tiles where it finally gave up the ghost and spilled its contents across the floor as it crumbled.
Continuing to look around at our surroundings, I noticed Kaz was still trying to use the wall as some sort of crow bar while she remained intent on breaking those chains. Ann was lying on the floor and it looked like she was trying to reach the door. There was  rotting linen and a few old steel surgical tools spread out across the floor. But they were nearer the opposite wall than to us. That's when I figured out that Ann wasn't trying to reach the door, she was laying face down in Horse juices stretching out to try and grab something to help with the removal of the chains.
I heard Ann say, 'Fuck it!' and as I looked over, I saw that she was sitting back up against the wall with little Horse juice teardrops dripping from her chin…
Both chapters 2 & 3 are available for Pozible supporters only.
Chapter one can read in full at The Alternatives website.
I like to make people laugh. The Internet allows me to entertain you without all that bothersome stage fright. I love to draw the reader, watcher, interactor, into the adventures with the me… and the girls… I have found myself drawn in to their adventures too.
 I am seeking more than crowd sourcing.
I am seeking your help to assist in setting me up with all the tools I will need to embark on a writing career, without the stress of how is it going to be edited, who's going to help me format, produce and publicise once my books are ready for publishing.
I don't want to just write stories. I want to write good stories.
Without your help, The Alternatives will be less than it is. I am passionate about my writing, about this story. I have watched Josephine Marlin bloom into so much more than she first appeared, when I first wrote a 30000 word outline for the novel,  not too long ago.
With your help, a dream can become a reality.
I don't have a large family or friend base for financial support, and I know that for you, I appear to be new to writing.
I'm not. I have two books available at the moment that I self published that you can view through my Amazon authors page.
I can tell you that I write more than 5000 words every day. When I am studying, I still write more than 5000 words a day, but those words are trialling new artistic endeavours. If you would like to see some of my work, please follow the links below.
Jerrymanders is a complete avant-garde interactive, digital experience that culminated in a 22 minute movie put together with voice, video, audio, music and imagery on the 7th of October 2017. A digital website that I still maintain and will be entering in the 2nd Interactive Story Track at the Madeira Film Festival this year.
I also keep my followers up to date almost daily through my FaceBook  Account and I have begun to put together a mailing list, and a Beta reader mailing list, in preparation for The Alternatives release, hopefully just in time for Christmas.
Budget Overview
Costs in AUD
Costs are listed below, with 'Incidentals' being for those unforeseen costs.
ISBN cost would be around $250.00 for 10, as opposed to 130.00 for 1 (The Fields of Elysium is a 10 book series with The Alternatives being the first).
Cover creation costs between $200 and $250
Vellum is a Mac writing program that auto formats the book as I write. It is free until its is time to format my book, then it cost around $300
An editor and a production editor assists with the editing and the final preparedness for the publishing of my book.
Incidentals cover Pozibles fee and those surprise costs that you never seen coming until it's too late.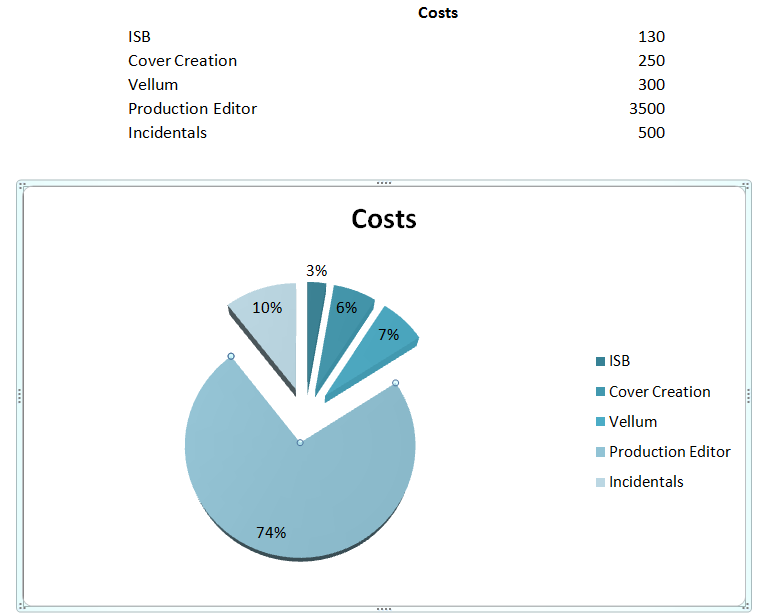 Potential Challenges
I don't foresee any adverse challenges ahead.
This is my first full novel and not a poetry book, to which I am very familiar with. This is a new and exciting adventure for me and I hope that that excitement is revealed in the story itself.
I have six months until my next Masters unit. I have already completed a first full draft, and I am at chapter 10 of 14 with a second intensive draft of the novel. As the book is intended to reach a specific group, females between 13 and 25, in the Fantasy, romance genre, I really believe that The Alternatives is worth investing in.
I just need someone to take a chance on me.